The best hair loss treatments specialist clinic in Lahore Pakistan where people from different cities are visiting to get the expert advice and baldness solution. Alopecia is the most common problem of the modern era where everyone wants to have a impressive personality, hair loss becoming a big no. This happens due to different hormonal, genetically, dietary and emotional reasons. Although it occurs in both male and females, baldness is more common on the female side. The problem not only affects the personality of a person also causes lack of confidence but as every problem has a solution here are some techniques used to solve it. The best hair loss treatments specialist clinic in Lahore Pakistan initially recommended medicines to stop hair fall and regrowth.

Best hair loss treatment includes Minoxidil in men but not for those having baldness from scalp and hairline. 2% a solution foam of it is also used for those females having thinning .
Cost: The cost of 5% minoxidil is 700 PKR for a supply of one month.
Side effects: In its side effects Dizziness is more common along with edema (swelling ) or scalp irritation.
Best treatment for Hair loss is treated by light therapy it is also called as laser therapy or red light therapy. The irradiated photons are injected in the scalp of the affected person which is absorbed by weak cells found in the scalp. It is safer and much easier therapy as compared to PRP and hair transplant.
Cost: it cost from 3000 Rs- 5000 Pak Rupee per session depending on diodes of patient
Side effect: The only side effect is that you will again start losing your hair if you stop using it after a few months so regular treatment is necessary for better results.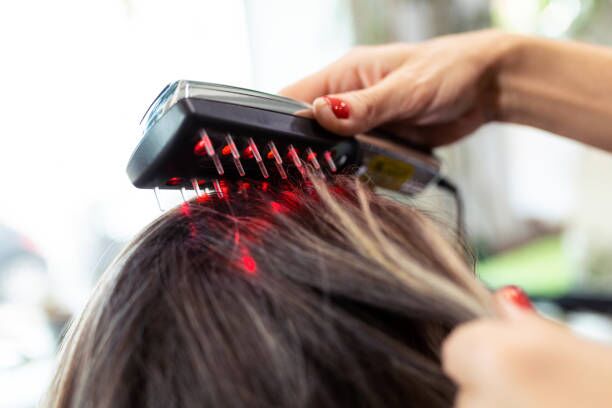 3)Scalp Micro pigmentation:
Hair loss is Best treated effectively by scalp micro pigmentation(SMP).it is done by using electric devices used for tattoos also for deeper penetration in the scalp skin. It is used for all those people suffering from due to cancer, alopecia, thinning and baldness.
Cost: it costs 25000 to 40,000 PKR in Lahore Pakistan and lasts for 8 years depending upon care done by the patient.
Side effect: most common side effects are scalp allergies which can be increased with the passage of
time.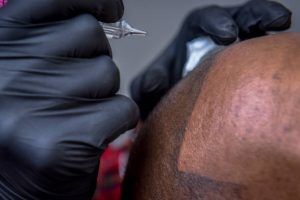 The best hair loss treatments specialist clinic in Lahore Pakistan suggests hormone replacement therapy in post-menopausal female patients. Menopause allows Hormones of females especially estrogen and progesterone not to work as effectively as were working before menopause.in this technique both hormones taken together and then giving those hormones to those females in the form of pills and creams.
Cost: $30 per month
Side effect: Breast cancer(if HRT is used prolonged). Heart disease risk also increases after HRT. Blood clots are the most common symptom of HRT.
PRP Therapy Process:
Best option includes PRP therapy and is performed in about 30-40 minutes but its maintenance sessions are needed after every 3–6 months.
Step 1
Your blood is taken from your arm and put into a centrifuge to separate the fluids.
Step 2
After about 10 minutes in the centrifugation your blood form three layers:
The first layer is platelet poor plasma.
The second layer is platelet rich plasma.
The third layer is red blood cells.
Step 3
The platelet-rich plasma is filled into a syringe and then the syringe is injected into those areas of the scalp that need increased hair growth or suffer from hair loss.
According to a recent study Trusted Source, "PRP is still at its infancy and need much more efficiency
and Clinical evidence is also needed"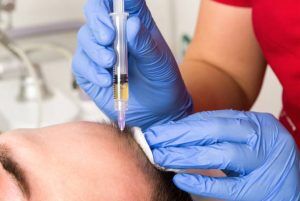 side effects:
Because PRP therapy involves injecting your own blood into your scalp, you are not at such high harmful risk of it, still any therapy that involves injections always carries a risk of side effects.
Injury to blood vessels or nerves infection may occur calcification at the injection points of scalp and scar tissue. There is also some chance that you could have a negative reaction to the anesthetic used in the therapy.
The best baldness treatment Lahore Pakistan- An ultimate solution
Best baldness treatment called hair transplantation is a technique that is typically used to remove follicles from one part of the body called the 'donor site' to the balding part of the body known as the 'recipient site'. The hair loss reverse technique is used to treat male pattern baldness. In this procedure grafted follicles that are genetically resistant to balding are transplanted to the bald scalp. It can also be used to restore eyelashes, eyebrows, beard , chest, as well as pubic hair and to fill in scars and also procedures such as face lift. Since hair naturally grows in groupings of 1 to 4 there is no other procedure is called Strip harvesting and follicular unit extraction (FUE).
Side effects: infections, crust around the surgical sites, itching, scalp pain and swelling. inflammation of follicles, bleeding.
Cost
The costs of the procedure ranges from 60,000 PKR and 150,000 Pak Rupees depending upon the center you choose for your hair transplant and how many hairs are transplanted.
How to contact the best hair loss treatments specialist clinic in Lahore Pakistan?

Those who want to get an expert advice may contact +92-333-430-9999 ( Cell & WhatsApp)