How To Shorten Hair Transplant Recovery Time
How to shorten hair transplant recover time depends upon your post procedure care and follow up of instructions provided to you at the end of procedure. Once you've committed yourself to get a hair restoration you'll need to focus on two things: actually going through with it, and the recovery that you'll face afterward. No matter whether you get the procedure to your head or to your body, there are specifics that you'll need to be aware of, and the biggest one is that recovery will depend on whether the hairs were removed from you in a strip method or in a punch method. The F.U.E. method uses a very small punch to extract the follicle and the hair from the skin. The strip method involves taken a small, thin strip of skin – generally from the back or the sides of the head – and then separating the follicles from it for implantation.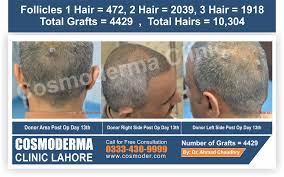 It doesn't matter if you get 500 or 5000 grafts transplant the recovery process is the same. You must be careful of infection risks, and you can't scrub or otherwise aggressively rub the area where the hairs have been transplanted for a while. I will tell you what's ok and not ok as so far as bathing, showering, playing any kind of sports, and even when you can return to work – which will depend on what kind of job you do.
Donor area recovery after 24 hours
If you have the strip method done, you'll have an area where the skin will be raw and sore, and you'll need to be aware that the area will need to be cared for along with the area to which the hairs have been transplanted. Using the FUE method requires care of the removal area, as well, but the area is often not as sore as an area where a strip of skin has been removed from the body.
How to shorten hair transplant recovery times depends upon your care after procedure. You should avoid exposing your scalp directly to Sun for few weeks. You should also avoid heavy exercise or Gym. You should also do not drink alcohol for three days. Be patient with yourself during recovery, too, because you're going to be a bit sore and uncomfortable. It may also be very strange to see yourself with hair, and the adjustment period can affect your self-image. Don't think that it won't matter to you, because it will, even though it's what you wanted. Just give yourself time to recover – maybe schedule a short vacation from work and just take a few days to rest and care for yourself. While far less invasive than other types of surgery, hair transplant recovery still requires several days to fully heal. Simple, over-the-counter medications and a few weeks are all that is generally needed for a full recovery. This surgery is considered to be less invasive than most, but still should be taken very seriously. In the long run, you will be glad you did. We are confident you will find our site and information that will help you attain your personal hair health goals.
People also search

Get free advice | Write us or WhatsApp | +923334309999