5000 grafts hair transplant cost in Lahore Pakistan is usually charged between 250,000 Pak rupee to 300,000 Pak Rupee. The procedure may take two days and each day 5 to 6 hour's duration. Five thousand grafts procedure should be carried out in two days so that each and every graft will grow and survive otherwise the procedure will take 6 to 8 hours and grafts may dehydrate and die. Are you a person who is very particular and possessive about his appearance? Are you the one who wants to look different from others? If you want these traits then you better have an attractive look and In having a very attractive look, like other things your hair matters a lot. But due to many reasons like food, stress and many more; baldness in men is becoming very common nowadays. But don't worry, technology can do anything. There is a method known as hair restoration that can solve your alopecia problems and we will discuss below factors that contribute 5000 grafts hair transplant cost in Lahore Pakistan.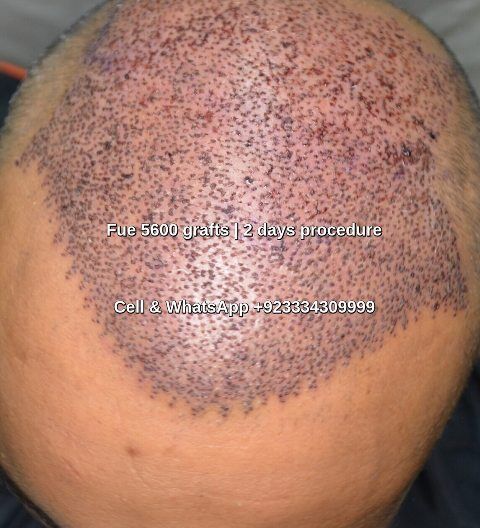 It is a surgical procedure through which you can recover your lost hair. This procedure can resolve the issue of baldness which is a concerning matter for most men. In this procedure, the surgeon usually numbs your recipient area of the head where hairs are less and for this purpose the patient is usually injected with anesthesia. In the next step, the surgeon uses the grafts from the donor areas, these grafts are then extracted and placed to the recipient area. Usually, one graft contains 1 to 4 hairs, but depending upon the need it may range from 3000-5000 grafts as well. Now the question arises that what will be 5000 grafts hair transplant cost in Lahore Pakistan. Below is a list of renowned clinics and countries around the world; famous for hair restoration surgery and their cost for 5000 grafts:
5000 grafts hair transplant cost comparison with different countries
First is a clinic known as "Cosmoderma " this clinic is situated in Lahore Pakistan. This clinic offers different charges for baldness treatment depending upon the number of follicles required covering the affected area. It comprises renowned hair transplant surgeon Dr. Ahmad Chaudhry. For 5000 grafts hair transplant cost in Lahore Pakistan , they charge €1850 euros.
Second, is Dubai the procedure is very cheap and common; people especially visit Dubai for their transplant. All types of clinics are available in Dubai which is affordable for every person. Typically the cost of 5000 grafts in Dubai is AED 20,000 – AED 32,000.
"Harley Street Hair Clinic" is situated in the UK. This clinic consists of specialized doctors, where doctors do the transplant. They do not compromise on hygiene nor on the safety of the customer. The cost of 5000 grafts at Harley Street Hair Clinic ranges from £8,000 – £15,000 pounds.
"Canadian institute of hair & scalp specialists" situated in Toronto. It consists of 20 years of experienced staff who performs the duty. They perform hair loss treatment procedures. The cost of 5000 grafts at the Canadian institute of hair & scalp specialists is approximately $8,000 dollar; prices may vary depending upon the requirements.
Cheapest hair restoration destination in the world
5000 grafts hair transplant cost in Lahore Pakistan is most economical. Hence if you want your previous handsome look back then contact any of these above-mentioned clinics to get a procedure. The cost of 5000 grafts offered by each clinic has also been mentioned. The price in Pakistan for 5000 grafts through F.U.E. method is in the range of 200,000 to 250,000 Pak Rupees.
People also search

Get free estimate | Write us or WhatsApp | +92-333-430-9999